Angel Bake's French Macaron and Swiss Buttercream mixes are perfect for bakers, restaurants, cafes, and caterers. Our professional grade formulations deliver consistently high-quality results with market-approved flavor and appearance.
Fans of home baking love Angel Bake mixes. It is now a simple task to create your own macaron creations and delicious buttercream frosting. Our retail products simplify the baking of pro-level treats while maintaining traditional taste and ingredients.
QUALITY
At Angel Bake, we take pride in using the highest quality ingredients in the industry. Our products are gluten-free, non-GMO, and contain no chemical preservatives. Angel Bake has carefully fine-tuned both ingredients and process to ensure your success.
What Customers Are Saying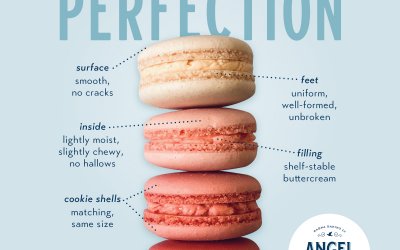 Baking perfect French Macarons can be quite a daunting, time consuming, and messy undertaking. The internet is loaded with recipes and advice on how to bake Macarons.  Yet, the truth is that success can be and is somewhat illusive.  It is easy to get different...