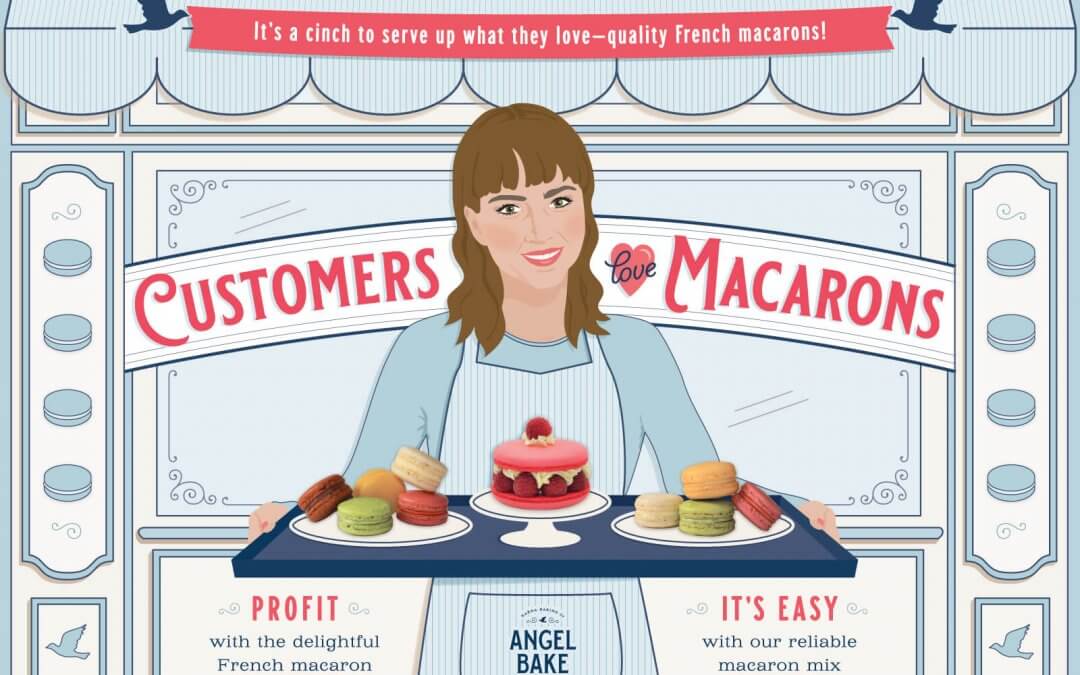 Crafting Perfect Macarons with Angel Bake
In the realm of exquisite patisseries, the macaron holds a revered place, symbolizing the finesse and artistry of the pastry chef. Whether modest or extravagant, fruity or chocolate-coated, macarons in their myriad colors and flavors encapsulate the essence of culinary elegance. They're a testament to a chef's skill due to their notorious difficulty in crafting but bring immense joy when perfected.
Historically, mastering the macaron was the domain of the seasoned pâtissier, but not anymore…
As America falls in love with this charming and delightful cookie, more and more customers are on a quest to find them. Saena Baking Company through our Angel Bake Single Step French Macaron Mix, enables chefs, caterers, and shop owners of every scale to perfect this high-demand dessert without the complications of traditional recipes. This exceptional product ensures a straightforward baking process, uniform results, impeccable appearance, and extraordinary quality, allowing you to effortlessly create macarons that lead the market while enabling you to infuse your signature look and flavors.
Elevate Your Business with Angel Bake
From the standpoint of business growth, presenting enchanting macarons not only sets you apart but also significantly boosts sales, emulating the success mantra of French patisseries. Imagine the customer response to an imposing macaron tower at weddings, parties, birthdays, corporate events, and during festive seasons! The investment in creating such a marvel is minimal compared to the substantial revenue and customer satisfaction it brings, creating a win-win scenario.
Break Down the Barriers with Angel Bake
Angel Bake products are designed to dismantle the typical hurdles encountered in baking this sought-after confection. We're here to assist you in initiating your journey of offering delightful macarons, providing demos and samples to get you started!
A Note to Our Existing Patrons:
If macarons are already a staple on your menu, you comprehend the hidden challenges: unfortunate bakes, damage during transit, and the list goes on… We at Saena Baking Company vow to cut down your overall costs and hassles by minimizing failures and damages. The macarons made with our mix are resilient, not hollow, and maintain their integrity for months in the freezer and for several days in a display case.
Join the Angel Bake Revolution
Reduce your operational headaches and escalate your sales with Angel Bake! Our customer feedback speaks volumes—consumers absolutely adore macarons created with the Angel Bake Macaron Mix. Ready to elevate your baking game and delight your customers? Contact us at info@saenafoods.com or visit our website www.angelbk.com to explore our range of products and services. Welcome to a world where baking macarons is a piece of cake!