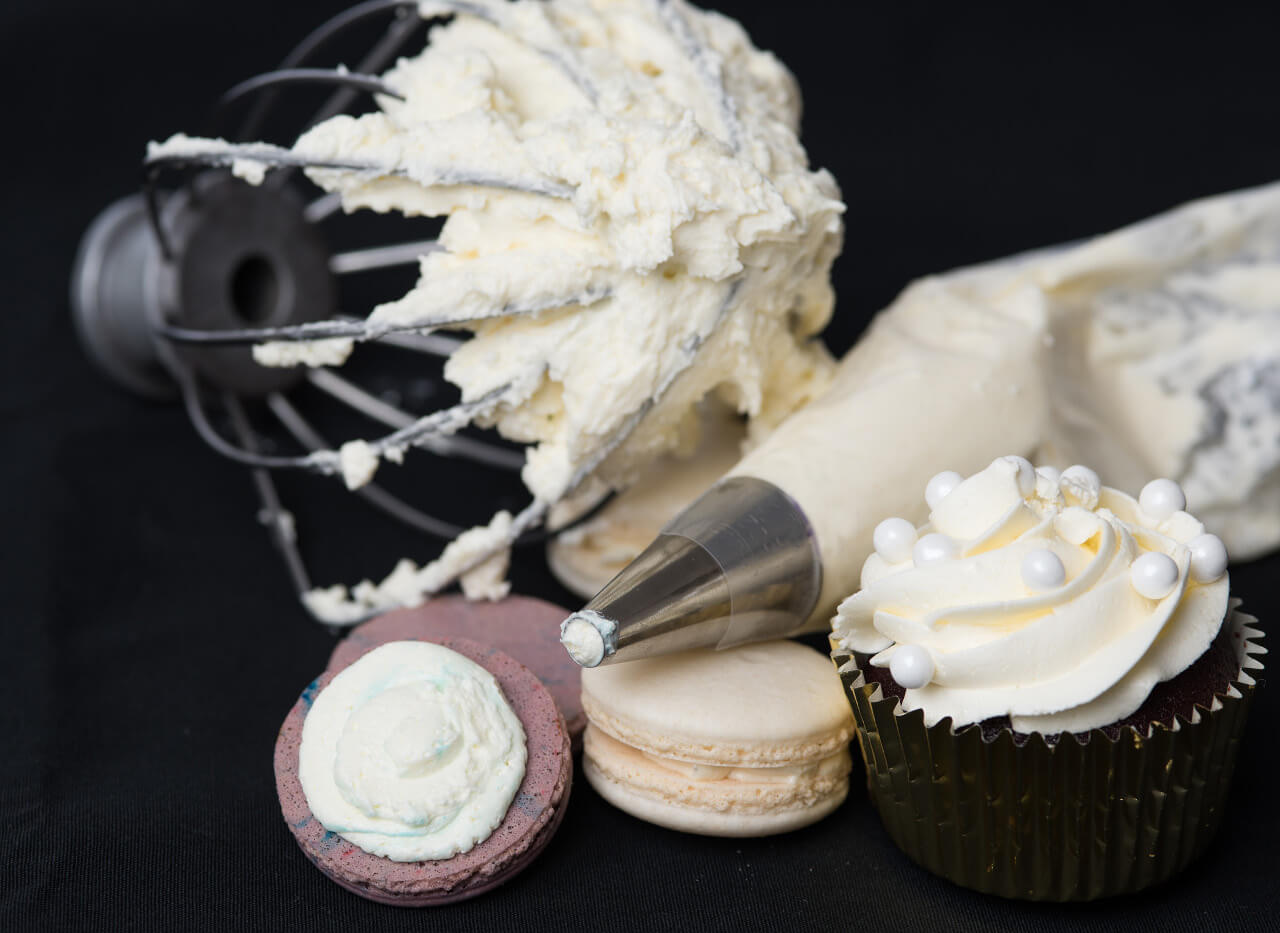 Swiss Buttercream Recipe Using Angel Bake Buttercream Mix
French Macarons are traditionally filled with Swiss buttercream.  The Angel Bake Swiss Buttercream mix is an easy to prepare, versatile meringue base that can be used in many applications in addition to French Macarons.
Ingredients:
A box of Angel Bake Swiss Buttercream Mix.
4 OZ hot water. 120 grams.  Half a cup.  160 'F
2 sticks of soft room temperature (soft) unsalted butter.
Directions:
In a mixer fitted with a whisk attachment, *hot* water to buttercream mix.  Accurate water measurement is important.  Use a measuring cup or a kitchen scale.
Whip on high speed until meringue is stiff and shiny.  Roughly 4-5 minutes.
Gradually whip in two sticks of room temp soft unsalted butter (1/4 – 1/2 of a stick at a time).
Whip for 2-3 minutes on high speed, until the mixture is silky and smooth.
Additional food flavoring/extracts (i.e. vanilla, rose, lavender, chocolate, lemon, orange, almond, peppermint), powdered food coloring, jam, cocoa, espresso(coffee extract), nut flour, curds, or liqueur may be added at this stage.  Whip 30 seconds more to incorporate.
This buttercream is perfect filling for French Macarons, decorating cakes and cupcakes.  Its also a perfect match for waffles, pancakes, and toast.
Buttercream can be kept for 1 week in the refrigerator and longer if frozen.  Thaw to room temperature before using.  You will need to whip the buttercream to reconstitute it back to desired consistency.
 The following post has flavoring ideas.
We recommend Angel Bake Extracts for flavoring your buttercream and Angel Bake powdered food coloring for coloring your buttercream.
 You an use the Meringue for just about any recipe requiring meringue.  Use it as a pie topping, torch and bake as you'd like.  Try our meringue cookie guide.
Most meringue base products contain corn starch, and a number of stabilizers which produce a chalky feel, medicine like after taste.  We've steered clear of them, and we are pleased for having done so.