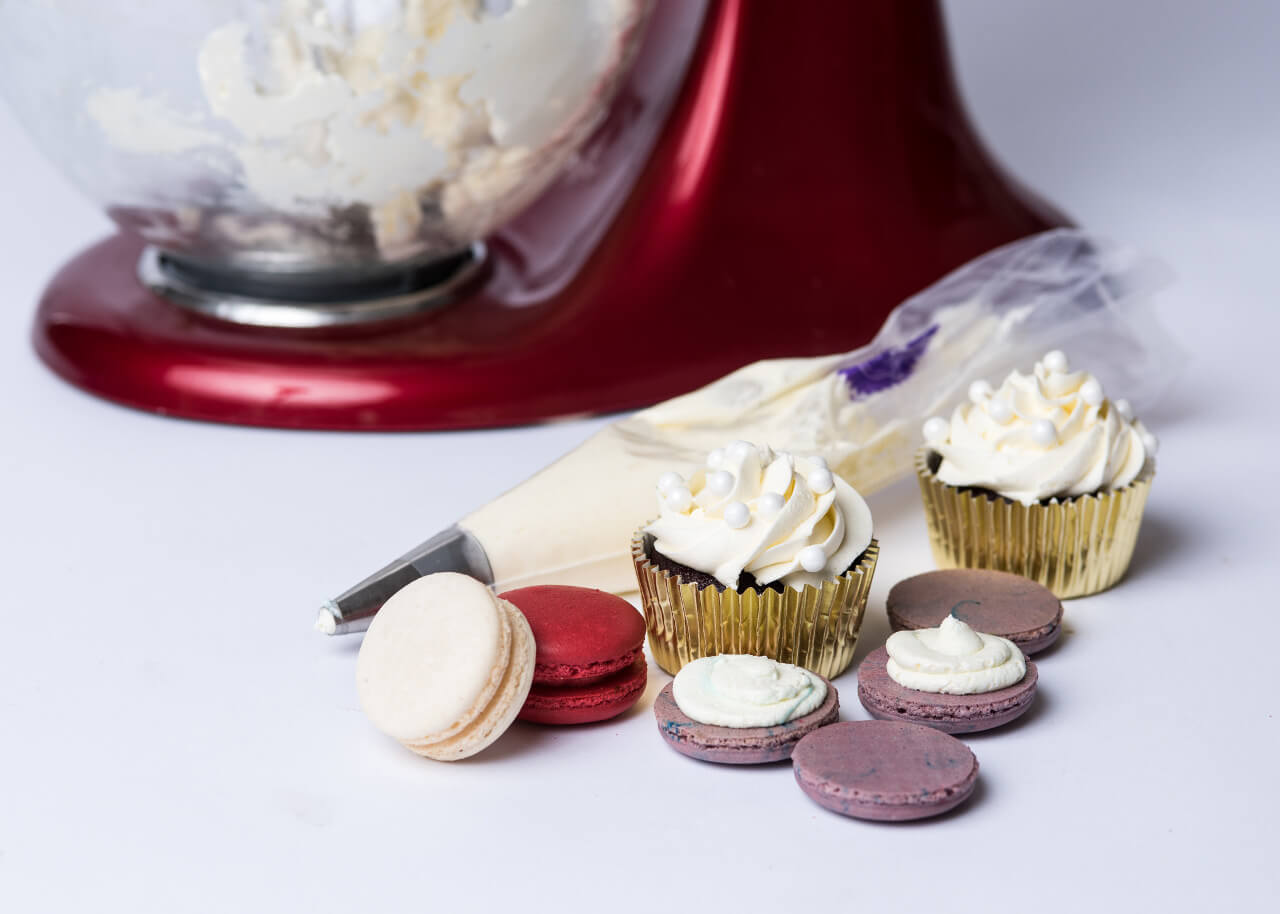 Making Swiss Buttercream is a trying undertaking.  You have to mix egg whites on a steam bath to just the right temp.  Go over and you have cooked eggs and stay under and you run the risk of having live bacteria in your cream.   The Angel Bake Swiss buttercream mix uses pasteurized egg whites.  To make it, you simply whip the mix with 1/2 cup of hot water to make a glorious meringue.  No need to steam up the whole kitchen!  You can use the meringue as is for pie topping or making meringue cookies.  To make buttercream, just add soft unsalted butter and whip to a shiny creamy consistency.  Feel free to vary the amount of butter to your liking.   To make dairy free icing or buttercream, just use dairy free butter alternatives. 
You can add just about any sort of additive to flavor your buttercream.   Things like liquors, espresso, cocoa, nuts, jams, fruits, food coloring, and or flavoring extracts.   See below for inspiration.   For coloring  your buttercream, we recommend the Angel Bake Powdered food coloring set. 
The Angel Bake Swiss Buttercream mix doesn't have any corn starch (so no chalky aftertaste),  preservatives, hydrogenated oils, and is gluten free.  Please compare ingredients before you purchase.
Buttercream Flavoring Suggestions
| | | |
| --- | --- | --- |
| Buttercream | Food Coloring | Flavoring |
| Banana | Yellow | 1 mashed banana+1 teaspoon of lemon juice+1 teaspoon of vanilla extract |
| Butter Scotch | None | 1-2 teaspoon Butterscotch flavoring |
| Cappuccino | None | 2 Tablespoon instant espresso coffee |
| Caramel/salted | None | 1-2 teaspoon caramel flavoring and a sprinkle of sea salt |
| Cherry | Red + small amount of blue | 1/4 cup Maraschino cherry juice+ 6-8 Maraschino cherries(diced) |
| Chocolate | Brown | 2-4 tablespoon cocoa powder and/or a teaspoon chocolate flavoring |
| Cinnamon | Brown | 1 teaspoon powdered cinnamon |
| Coconut | None | 2-3 tablespoon dried unsweetened toasted coconut flakes |
| Coffee/Espresso | Brown | 1-2 teaspoon instant espresso powder and/or coffee flavoring |
| Cream cheese | None | 2-4 tablespoon soft cream cheese |
| Ganache | None | 2-4 Tablespoon of chocolate ganache |
| Gum | Any or none. | 1-2 teaspoon Bubble gum flavoring |
| Lavender | Purple | 1 teaspoon lavender extract |
| Lemon | Yellow | 1 teaspoon of lemon extract (or lemon juice and zest) |
| Macadamia – Vanilla | None | 1 teaspoon of Vanilla extract |
| Macha tea | Green | 1 tablespoon matcha powder |
| Marzipan | None | 2-4 tablespoon marzipan paste |
| Mascarpone | None | 1-2 tablespoon mascarpone cheese |
| Mint/Peppermint | Green | 1 teaspoon peppermint extract |
| Mocha | None | 1-2 tablespoon Cocoa powder and 1 teaspoon coffee extract or Espresso. |
| Nutella | Brown | 2-4 tablespoon of Nutella |
| Orange | Orange | 1 teaspoon orange extract |
| Peanut butter | Brown | 1-2 tablespoon peanut butter |
| Pistachio | Green | 2-4 tablespoon of pistachio flour |
| Raspberry | Red + small amount of blue | 1 teaspoon raspberry extract and/or 2-4 tablespoon raspberry puree |
| Strawberry | 1 drop of red | 1 teaspoon of strawberry extract, puree, jam or fresh. |
| Vanilla | None | 1-2 teaspoon of vanilla extract or vanilla paste |
| White Chocolate | None | 1 teaspoon melted white chocolate |
| Liquor infusions |   | 1-2 teaspoon of the liqueur of your choice |
| Baileys | Brown | 1-2 teaspoon Baileys Irish cream |
| Frangelico | None | 3 Tablespoon Frangelico+ 2 Tablespoon hot coffee |
| Grand Marnier | Yellow + brown | 1-2 teaspoon Grand Marnier liqueur |
| Irish Cream | None | 1-2 teaspoon Irish cream liqueur |
| Kahlua | Brown | 1-2 teaspoon Kahlua liqueur |
| Rum | Yellow + brown | 1-2 teaspoon of Rum or Amaretto |