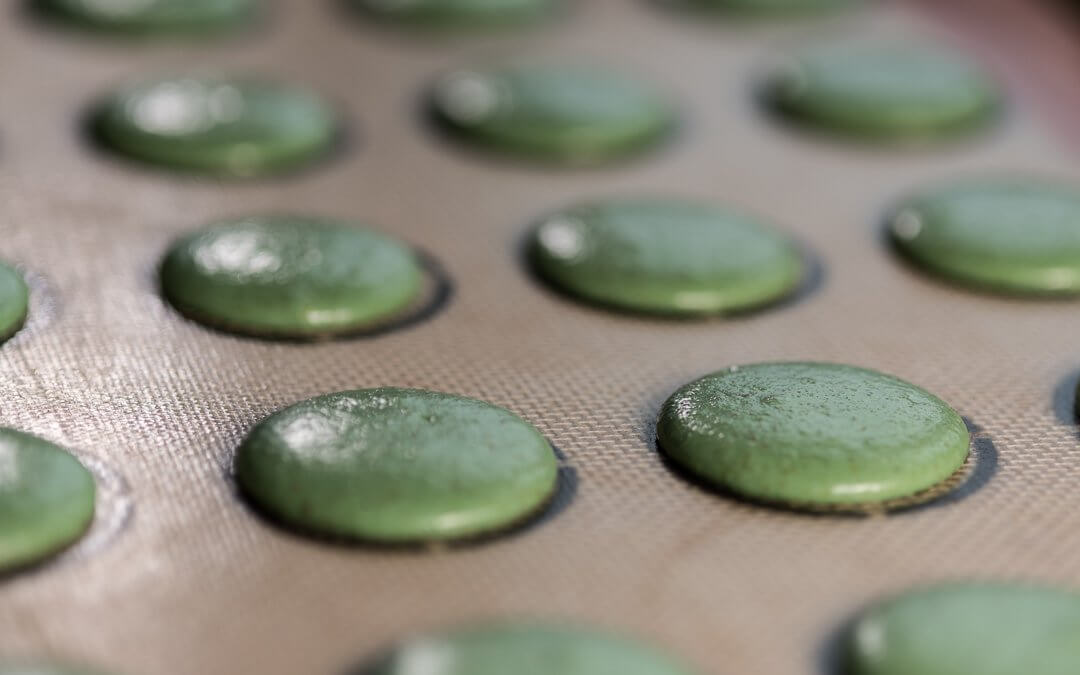 Pistachio Flavored French Macaron Recipe
To make Pistachio Flavored French Macaron Recipe, Simply add a drop of green food coloring and pistachio flavoring when adding almond mix to the prepared meringue.  Alternatively, substitute 4 tablespoons of the Almond Mix with pistachio flour and add green food coloring.  May use both pistachio flour and flavoring for richer flavor.
View the following video guide for further information.
Ingredients:
Directions:
Prepare three baking trays lined with Silpat or parchment paper.
Place the meringue mix (small pouch) in a grease free bowl of a stand mixer with whisk attachment.
Add 3 oz. of room temperature water and whip on high speed for approximately 5-6 minutes or until meringue is firm (NOT stiff).  Measure water precisely using a measuring cup or kitchen scale.
Check meringue firmness at around 5 minutes.  Whip longer if needed.
Sift almond mixture to remove clumps.
Add all at once to the meringue along with extract and food coloring.
Mix on low speed using paddle attachment for 20 seconds.  Use a timer.
Use a flat spatula to make sure all the meringue at the bottom and the sides of the bowl is fully incorporated.
The batter should form a lava-like consistency and come off the paddle very slowly.
Place a round pastry tip in a disposable pastry bag. Cut the tip.  Place it in a tall plastic jar or a glass, and fold over the edge. Pour batter into the pastry bag.
Pipe the batter in 1 – 1.25 inch circles. Tap each tray on a hard surface a few times to remove any air bubbles and flatten cookie surface.  Cookies will flatten to 1.75 inches when you tap the tray (they will fill the Silpat guide).
Preheat oven – set to bake at 300 ºF.
Let cookies rest for at least 20 minutes to allow the surface to be dry to the touch. This will prevent cookies from cracking while baking.
Bake at 300 ºF for 15 minutes.  Make sure your oven has reached 300 ºF before baking.
Let cookies cool down completely before removing them from trays.
Garnish with buttercream and assemble.
Note that smaller cookies will need less time to dry and bake.  Conversely, larger cookies will require a little longer to dry and bake.
Pistachio flavored buttercream:
Make the buttercream mix following this recipe.  Add green food coloring and pistachio extract to the buttercream. May also add pistachio flour.   Vanilla or strawberry buttercream filling will also go well with pistachio macarons.