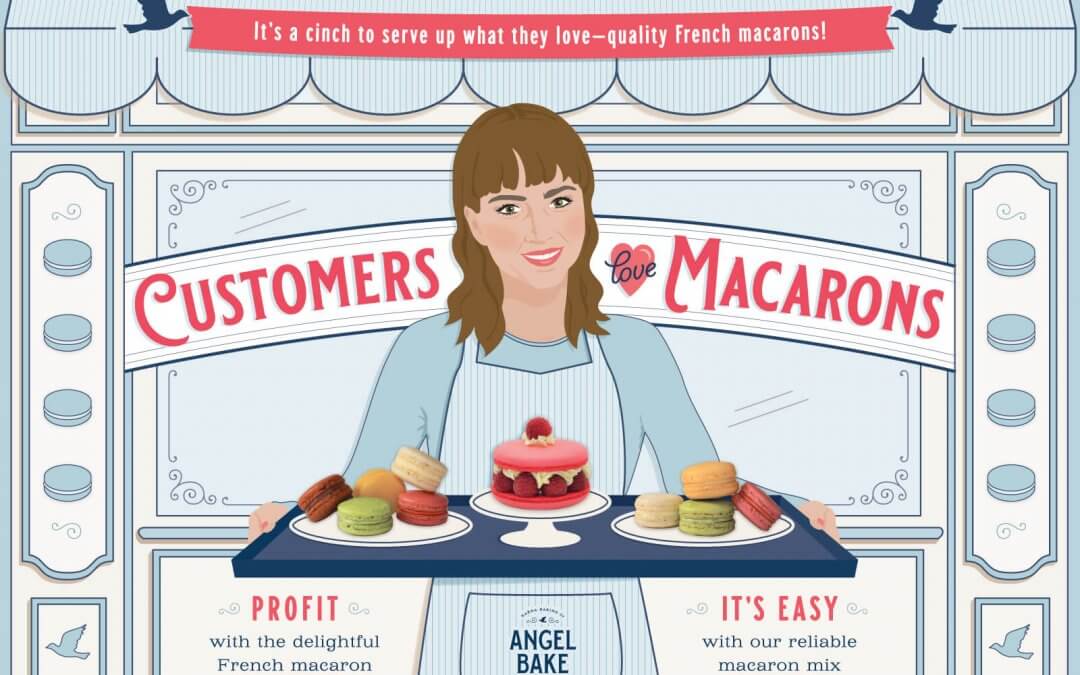 The mark of a great French patisserie is in the display of their macaron artistry. Be they small or large, fruit-filled or coated in chocolate, in all colors and flavors, macarons show the skill of the pastry chef. Why the macaron, you ask? Because they are notoriously difficult to make but such a pleasure to behold when done right. And to get those perfect macarons on display, you would have to be a highly experienced pâtissier. Until now…
America is catching on to the charming macaron cookie and customers are seeking them out. The Angel Bake Single Step French Macaron Mix aids any chef, caterer or shop owner in mastering this sought-after novelty dessert item. No need to pursue the from-scratch techniques that are fraught with failure when Angel Bake can assure you a simple baking process, consistent results, a perfect look, and outstanding quality. Our mix enables you to effortlessly bake market-leading macarons—you get to customize the look and flavors.
From a business perspective, by offering beautiful macarons you can differentiate yourself and increase sales, just as the French patisserie does. Think of how customers would respond to the impressive macaron tower. Weddings, parties, birthdays, corporate events, ceremonies, Halloween, Valentine's, Christmas—all are occasions for which buyers would love to have a show-stopping tower! As a chef, caterer or shop owner, your cost to make the tower is a fraction of the potential revenue it will generate. it's definitely a win-win for both you and your customers.
Angel Bake products remove much of the barriers associated with baking this popular confection. Contact us for demos and samples—we are here to help you get started with offering delightful macarons!

P.S. If you already have macarons on your menu, you are all too familiar with the hidden horrors. Bad bakes, product breaking in transit or damaged by handlers… Our promise to you is that we'll reduce your overall costs by minimizing unsatisfactory bakes, road damage and handling breakage. Our macaron mix delivers macarons that are neither hollow nor suffer from crusty shells. Additionally, Angel Bake macarons last for months in the freezer and hold up great for 3-4 days in a typical display case. Reduce your headaches and increase sales with Angel Bake. Judging by the feedback we've received, customers love macarons made with the Angel Bake Macaron Mix.